5x3
Kasteel Doorwerth
Description: Ancient castle located on the border of the Rhine. It was a centre of power, government, and administration of justice. In 1260 there was a wooden fortress on the site, which was destroyed by a warlord of the bishop of Utrecht. But 20 years later it had been rebuilt in stone, and was again besieged and plundered.
History: In the early 15th century the North Wing was added, together with battlements and defence towers. During the latter half of the century, the big tower and parts of the South Wing were built.
During the 16th century there was another floor added to the East wing, the South Wing was extended, and the round tower with winding stairs connected all the floors of the extended castle. By around 1640 the castle reached its present shape.
Through its long history it was repeatedly besieged, burnt down, restored and left uninhabited for long periods of time. The most severe destruction happened during and after the Battle of Arnhem in September 1944. Almost 75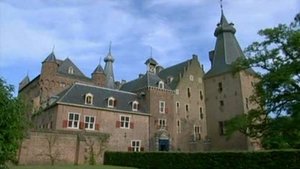 Sep. 28, 2004
season 5